All fantasy football players have their guys.
Some people love David Johnson, while others are scared off by the small sample size during his breakout campaign a year ago. Some love Allen Robinson, while others are confident he's due for a regression.
These choices are often subjective—there's no definite right or wrong answer. Could Johnson and A-Rob keep dominating for the Arizona Cardinals and Jacksonville Jaguars, respectively? Absolutely.
But that preseason fire could also fizzle out once the real games start.
Let's talk studs and duds below.
Note: This is standard-format analysis.
Quarterback
Stud: Andrew Luck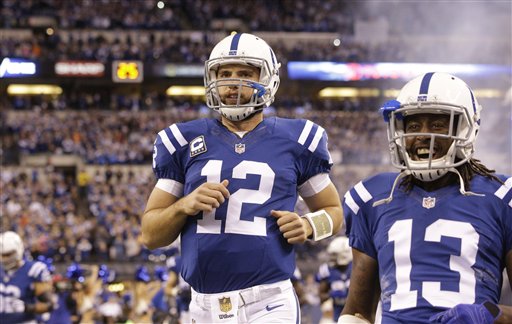 John Minchillo/Associated Press
He's back.
After playing just seven games last season, Indianapolis Colts quarterback Andrew Luck appears geared up for a monster 2016.
The tools are all there. Luck's got the ever-dynamic T.Y. Hilton as his top pass-catcher. On Thursday, the quarterback called Hilton the "best player" at training camp.
Here's some high praise Luck added, per Stephen Holder of the Indianapolis Star:
It feels that way, and that's what an elite player is. I remember being a rookie with T.Y. and watching Reggie Wayne practice every day. He was probably the best player on the field every day, and he practiced like it. From the stories I've heard, that was Marvin (Harrison) every day on the practice field making plays and doing it 100 percent and going all out.

So I think T.Y. is carrying on the tradition of great, hard-working, practice wide receivers on this team. He's special.
Luck also has the rapidly improving Donte Moncrief as well as second-year speedster Phillip Dorsett. In the backfield is Frank Gore, who is not the star he once was but is still serviceable.
As a fantasy owner, don't be scared off by concerns that Luck's had an "uneven" camp, which was reported by Zak Keefer of the Indianapolis Star.
That's who Luck is.
He takes chances. He throws picks. He makes what appear to be boneheaded plays more than his coaches would like.
But many of those chances result in explosive plays and, in turn, fantasy points.
Expect a healthy Luck to finish in the same conversation as top fantasy QBs like Cam Newton, Russell Wilson and Aaron Rodgers.
Dud: Marcus Mariota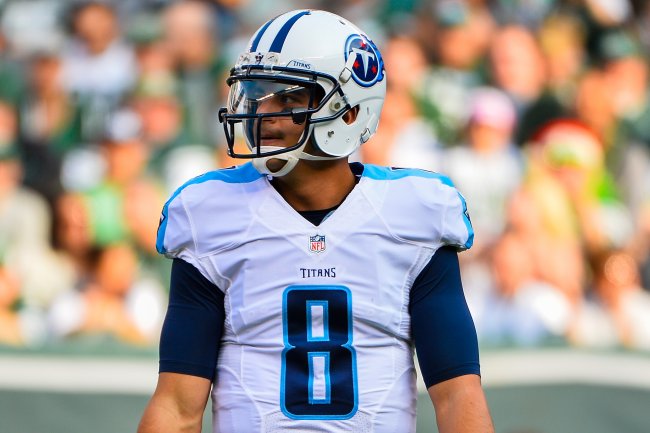 Alex Goodlett/Getty Images
Marcus Mariota showed flashes last year.
He's got game-breaking speed as a runner, but that wasn't always a factor in the Tennessee Titans' game plan. Worsening his fantasy production was painful inconsistency. There were four different outings Super Mario tossed three-plus touchdowns, but there were five with zero.
The 22-year-old is hit-or-miss. And given his limited weapons aside from DeMarco Murray and Delanie Walker, it's tough to give Mariota a roster spot for more than single weeks at a time.
He's streamable in some matchups, but he's not someone you'll want to draft and rely on.
Running Back
Stud: David Johnson
It's easy to convince yourself not to draft Johnson. After all, snagging him likely means passing on first-round talent like A.J. Green or Devonta Freeman.
Will D.J. simply be the next C.J. Anderson—a young star who emerges as a dominant force down the stretch of one year, only to disappoint in the next?
Short answer: No.
[embedded content]
Long answer: The Cardinals seem genuinely all-in on the Northern Iowa product, who was recruited to college as a wide receiver. With just five starts, Johnson racked up 581 yards on the ground (eight touchdowns) and 457 through the air (36 catches, four scores).
Head coach Bruce Arians often used the burly running back as a receiver in the red zone, which created all types of mismatches that quarterback Carson Palmer easily exploited.
The presence of Chris Johnson is somewhat daunting for owners, too. Here's what Arians said on Friday to quell those concerns, per Jeffri Chadiha of NFL.com:
I'm afraid to talk about [David Johnson] because I might get him hurt. But he can run it 25 times and he can catch it 15 times. The sky is the limit for his ability, because he can do so many things. I don't want to run him in the ground early, because we have Chris [Johnson] and Andre [Ellington]. We have a great group of running backs, so one guy doesn't have to get all the carries early in the season.
Believe the hype. After the top three receivers (Antonio Brown, Odell Beckham Jr. and Julio Jones) are off the board, David Johnson should be in play as the first back selected.
Dud: Isaiah Crowell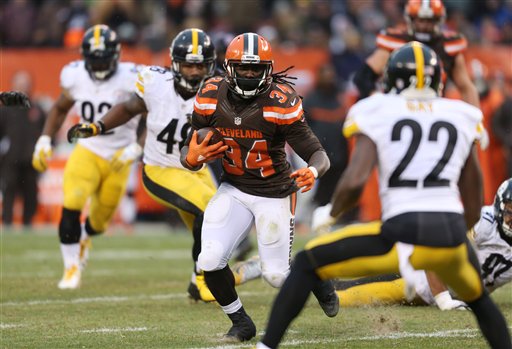 Ron Schwane/Associated Press
Some are viewing Isaiah Crowell's ADP (average draft position) of RB42 as a value.
It's actually generous.
Though billed a first- and second-down back, Crowell is in danger of losing carries to second-year teammate Duke Johnson.
Crowell will still be involved, of course. With Hue Jackson now manning the Cleveland Browns sidelines, it'd be shocking to see either Crowell or Johnson become a three-down, clear-cut workhorse. Keep in mind that this is the same coach who wielded the league's best backfield combination in Jeremy Hill and Giovani Bernard with the Cincinnati Bengals.
The common thought with Cleveland is that Crowell will fill Hill's bruising role while Johnson acts as the passing-down back, like Gio. After all, the latter led all rookie running backs with 61 receptions. He was second among first-year players, trailing only Oakland Raiders wide receiver Amari Cooper.
According to Mary Kay Cabot of Cleveland.com, both Crowell and Johnson could be used on the field at the same time:
Yes, I definitely think you will see Crowell and Johnson on the field at the same time, but not necessarily both in the backfield. There might be times where Johnson is split wide and Crow is in the backfield. But with Hue Jackson's offensive creativity, I'm sure you'll see both players lining up in multiple spots and being used in various ways.
That bodes well for Johnson, who would be seeing the field even in situations Crowell would typically be in the backfield.
[embedded content]
In addition, Tommy Chalk of the Washington Post pointed out that Johnson is more than just a shifty pass-catcher:
First of all, Johnson may end up being a better runner than Crowell. According to PFF, Johnson recorded the most missed tackles per touch among running backs with at least 150 carries last season. In that same category, Crowell ranked 30th. Plus, Johnson rated as Cleveland's best runner just last season, receiving a PFF grade of 74.7. Crowell only received a less-than-mediocre 71.9 grade. PFF classifies Johnson's grade as an average starter grade, while Crowell's is below average.
In PPR, Johnson is the obvious choice. But even in standard, Duke's ceiling is immensely higher. He's a second-year breakout candidate.
Wide Receiver
Stud: Odell Beckham Jr.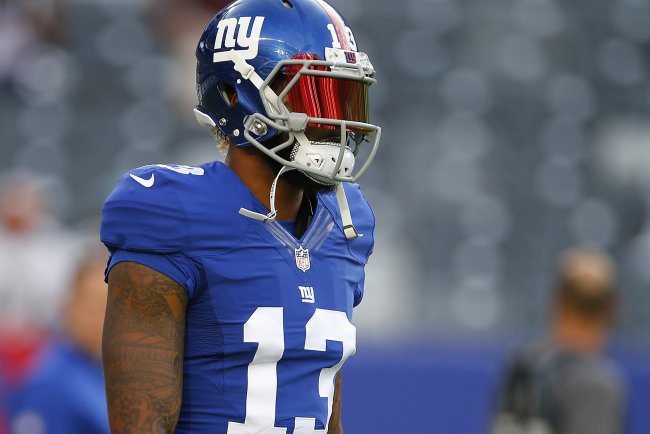 Rich Schultz/Getty Images
Odell Beckham Jr. scoffed at those "sophomore slump" believers last season.
He finished third in receiving yards (1,450), eighth in receptions (96) and tied for fourth in receiving touchdowns (13). Don't forget OBJ did all this even while missing Week 16 due to suspension—a painful memory for many who were fighting for a fantasy championship.
Beckham is elite; that's not changing.
His connection with Eli Manning is unshakable, and now the Giants figure to actually have some help opposite Beckham this season. Rookie Sterling Shepard has drawn rave reviews—No. 13 is among his vocal supporters—and flashed that potential in NYG's first preseason game before leaving with a minor groin injury.
We get it, it's preseason, but come on. This catch by the rookie @sterl_shep3 is ridiculous. #MIAvsNYGhttps://t.co/DZgYObgpbe

— NFL Network (@nflnetwork) August 13, 2016
Victor Cruz could also play for the first time since 2014. Factor in what should be an improved running game reliant on Rashad Jennings instead of a dysfunctional four-headed attack, and you've got the makings of an offensive boost in New York.
At the forefront of that should be another monster effort from OBJ. Grab him in the top third of your draft with confidence.
Dud: Kelvin Benjamin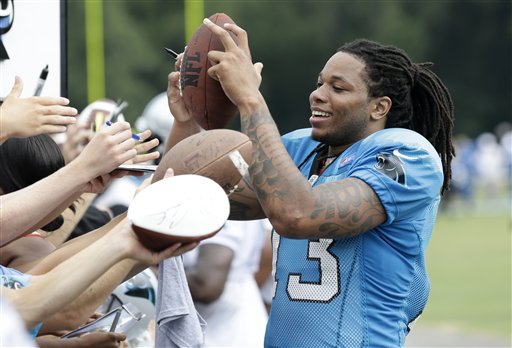 Gerry Broome/Associated Press
Don't freak out.
Kelvin Benjamin was a fantasy stud during his rookie season, totaling 73 grabs, 1,008 yards and nine touchdowns.
Things weren't perfect, though—Benjamin's catch rate was just 50.3 percent, meaning he was more a product of volume than anything else.
Then, around this time last year, he tore his ACL.
Then, Cam Newton put forth an MVP effort without his top target from the year prior.
Now, it's been assumed that upon his return, Benjamin will immediately reclaim his role as the undisputed No. 1.
Is it that simple?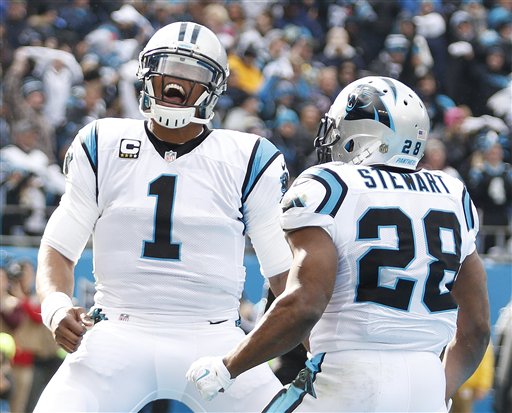 Bob Leverone/Associated Press
Well, he's going to be a featured part of the passing attack. He's a mammoth target at 6'5", 240 pounds. In the red zone, he's near-unguardable.
But Carolina's world won't stop spinning just because Benjamin is back. Newton spread the wealth last season and didn't consistently lock in on any one target aside from tight end Greg Olsen, making choosing a Panthers receiver a nightmare for fantasy owners.
In real life, though, it resulted in a trip to the Super Bowl.
Expect a strong season from Benjamin, but think of him more of an explosive WR2 than a week-to-week WR1.
Tight End
Stud: Rob Gronkowski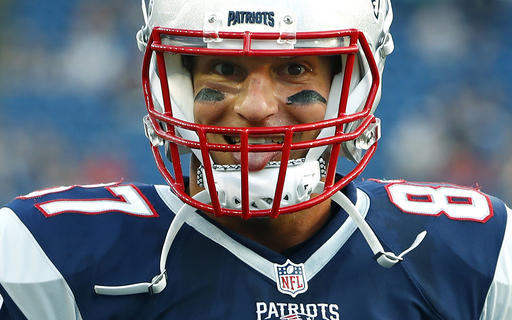 Winslow Townson/Associated Press
Even before his buddy Tom Brady returns from his four-game suspension, Rob Gronkowski is the uncontested top option at tight end. Quarterback Jimmy Garoppolo will feed him often.
And when Brady gets back? Oh, man.
One of the most dominant forces in the NFL today, Gronk is still worthy of a first-round pick. Fire him up every week.
Dud: Will Tye/Larry Donnell/Matt LaCosse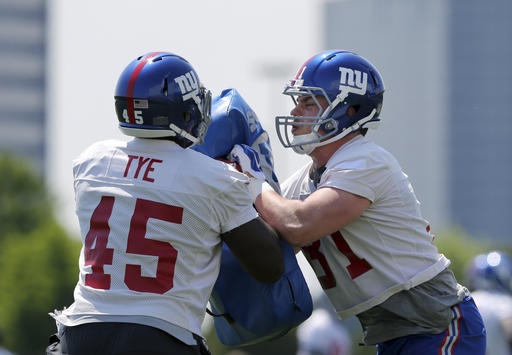 Mel Evans/Associated Press
Fantasy players have learned to stay away from committee backfields when drafting running backs.
The Giants appear to have a TEBC (tight end by committee) brewing.
There's Larry Donnell, Will Tye and Matt LaCosse in play here. As of August 5, tight ends coach Kevin Gilbride Jr. didn't seem sure who'd emerge as the starter, per Michael Eisen of Giants.com:
Each person in that room brings something different to the table. I feel like that all six of them are candidates for the 53-man roster. It's just a matter of who emerges. Who emerges and are they better than the other positions. Coach (Ben) McAdoo had mentioned that the best players will play. It's not a certain number of tight ends in the group, it's just a matter of who's the best football player.
Snagging Donnell, who went for 63/623/6 in 2014, or Tye, a late-season bloomer in 2015, might seem appealing, but proceed with caution.
There are late-round options available elsewhere—Eric Ebron (ADP: TE18) or Jason Witten (ADP: TE15) figures to be much more reliable.
Kicker
Stud: Domes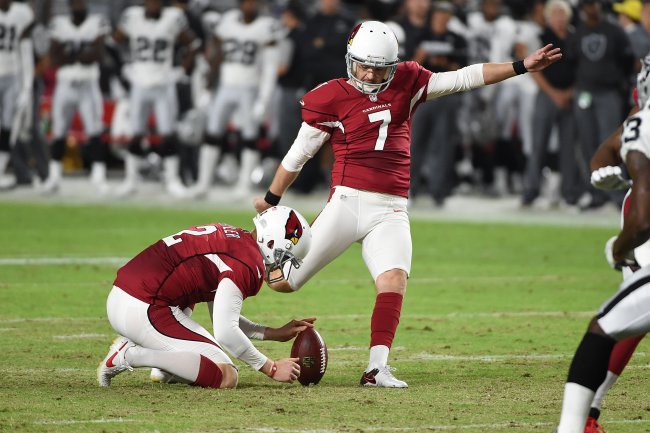 Norm Hall/Getty Images
Kickers are fluky, but those who play in a dome face fewer weather-related obstacles.
Here's a list of such teams, courtesy of Football Insiders' Mark Gunnels:
Atlanta Falcons
New Orleans Saints
Detroit Lions
Houston Texans
Arizona Cardinals
Indianapolis Colts
Dud: None of note
Again, it's a fluky position. Unless your guy becomes a bona fide stud, there's no sense getting attached to one kicker. Pick up and drop as your schedule dictates.
(Side note: It can be fun to draft your favorite team's kicker, so when it scores, you score. But if he shanks one, things are even more painful.)
D/ST
Stud: Arizona Cardinals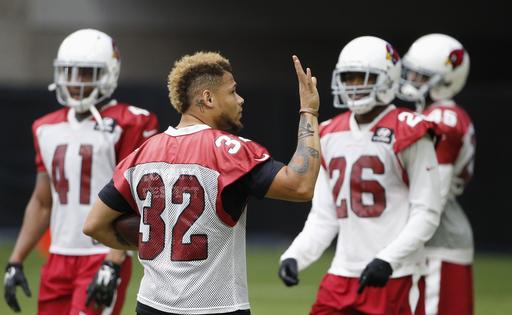 Ross D. Franklin/Associated Press
Have you seen Amazon's All or Nothing: A Season with the Arizona Cardinals yet?
If not, it's worth watching.
If you have, you'll likely be clamoring for Arians' defensive unit, which features one of the best secondaries in the NFL.
After tearing his ACL in late December, star safety Tyrann Mathieu should be back early in the season. Week 1 appears to remain a possibility, per Darren Urban of AZCardinals.com:
Arians: Two more weeks out for Mathieu, Rucker. Bethel, Nkemdiche should be less. Smokey Brown still in concussion protocol. #CardsCamp

— Darren Urban (@Cardschatter) August 4, 2016
Even if the Honey Badger doesn't return right away, Arizona is still a solid D/ST to own. Last year, the Cardinals ranked second in total turnovers, and Patrick Peterson is always a threat to take one to the house.
Dud: Any defense picked before Round 8
Unless you have some wacky scoring settings in your league (maybe return yards are highly valuable, for example), it's just not worth reaching for a defense.
Be patient.
ADP information was sourced from FantasyPros.com. NFL stats were used from Pro-Football-Reference.com.